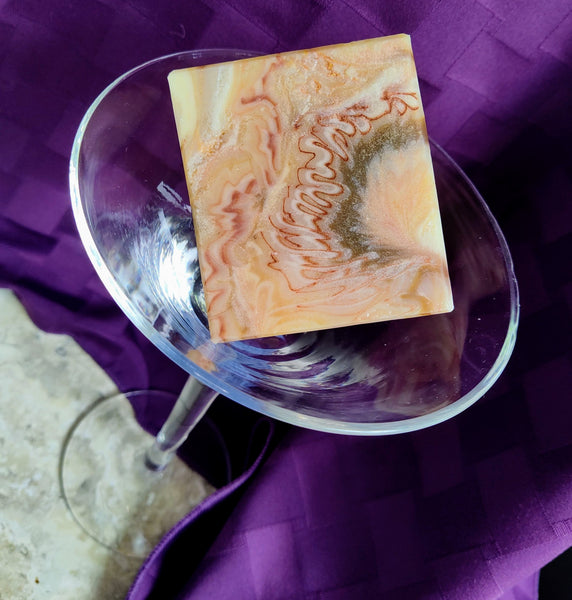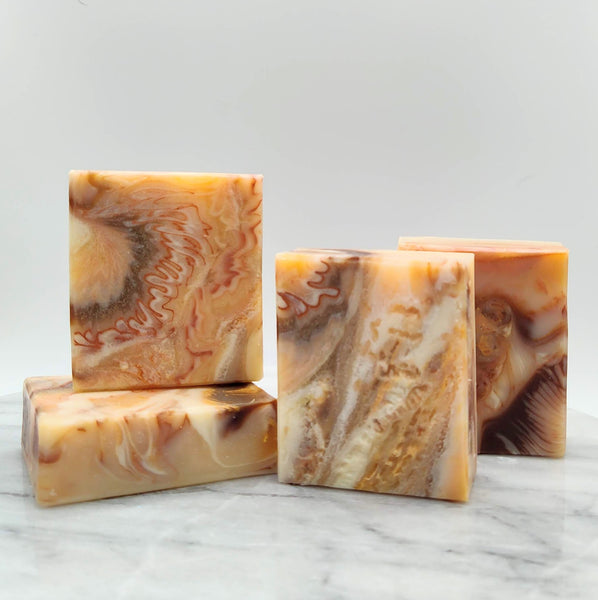 TRAVER-tini Soap
Am I the only one longing for the carefree days of fanciful cocktails with gal pals discussing anything but politics? Alas, we can't return to blissful ignorance. But we can take time for self-care. 

Travertine, from a metaphysical standpoint, is a stone sometimes used for boosting confidence and providing stability. And so...TRAVER-tini - a soap for this moment. With a bright, citrus-y scent reminiscent of a lemon drop cocktail and a touch of bergamot. Gorgeously lathering, with soap designs ranging from bold color veins, to more subtle marbling with copper mica details. A sophisticated, class act bar.
First: Let's fortify with frothy joy, friends
Next: Let's strengthen democracy in 2024, starting now.
#Washyourdamnhands
#usegreatsoap 
#voteineveryelection
Ingredients (Palm-Free): Made with glee, plus a palm-free blend of olive oil, lard, coconut + avocado oils. Distilled water, lye, powdered sugar + sodium lactate. Pure essential oils of lemon five-fold, litsea cubeba + bergamot. Colored with plant-based turmeric + cocoa powders, plus mineral-based titanium white, gold + copper cosmetic micas.
Full bar net weight: 4.25 oz/123 g. 

Soap Care:
To extend longevity, keep your Aroma Art bar in a well-draining soap dish away from shower spray. Better yet, use an ecologically-friendly soap lift or soap net to more completely dry your bar between uses. 

For shipping information, click here.